With researchers citing that the global IoT fleet management market is expected to grow by almost $17 billion in the next seven years, it's safe to say that telematics has gone global.
And by global, we do mean every part of the world including remote and harsh locations such as Antarctica. Geotab announced its first Antarctica fleet customer earlier this year.
British Antarctic Survey (BAS)
, a scientific research and surveying company selected Geotab to support reliable location tracking and driver safety on its diverse fleet of vehicles, including snowmobiles, throughout the continent. Snowmobiles are even equipped with a panic button so that field researchers can quickly alert management about critical safety problems before they become life-threatening. (Read more details on the
BAS/Geotab announcement here
.)
With the addition of Antarctica, Geotab is now operating on all seven continents.
In light of this moment, we wanted to look at some of the key trends and takeaways for global fleet management.
Global Fleet Management Trends 2018
Global fleets continue to deal with basic operational differences from country to country.
In the early days of global fleet management, different regions often stayed in silos, with variations in reporting requirements, paperwork and so on making it difficult to do the same work for different areas. Stephanie Voelker and Ivan Lequerica discussed the challenges of managing a global fleet in their presentation at this past
Geotab CONNECT
.
Technology has improved efficiency and helped create uniformity in operations — making processes faster, such as fuel use reporting. Add to this the ability of global companies to
change communications through technology
such as video calling, online procurement, ordering processes and remote diagnostics via fleet management software.
However, many of the same inherent challenges still apply to global fleet management. Here's a brief list of the variations that can occur between countries, regions and continents:
Currency used
Languages spoken/written
Types of infrastructure and quality/reliability of infrastructure maintenance
Pricing differences such as what is considered fair market value in New York City in the U.S. compared to the City of York in England
Laws and regulations
Overall cultural views toward emissions and alternative fuels
While these are not new challenges to global fleet management, in certain ways technology and the effort to make certain operations more uniform can amplify these challenges.
Global fleets deal with challenges on service consistency.
Ongoing debates and coverage differences continue on a global scale. This is important for fleets when wireless internet coverage is required for telematics and other connected technologies. Coverage varies across the world, as seen in this map from World Time Zone.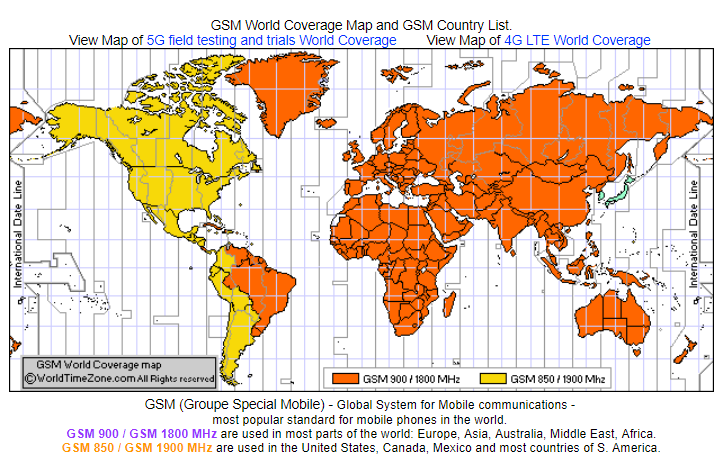 GSM World Coverage Map and GSM Country List. Source:
World Time Zone
In the mobile communications industry, there is a move away from 2G network in North America toward 3G and 4G networks to support more bandwidth and the ever-growing video streaming demands. While some carriers still operate a 2G network, all the major carriers have plans to shut down 2G networks.
For fleet management, the upgrade to 3G allows for the use of telematics devices with faster speed and more memory, plus it opens the door to a whole range of extra telematics features such as collecting engine diagnostics, tracking seat belt usage or collision detection. Read more about the
3G Geotab GO device
here.
Major network changes don't seem to be slowing down anytime soon.
Talks of a 5G network are abound with one major carrier and phone developer releasing a
5G-network capable smartphone in August 2018
. While the phone can't actually operate on 5G yet — since there is no 5G network at this time — it has an add-on feature in which a 5G module will be available to install onto the phone later.
The hype around 5G is centered on the ability to connect more people wirelessly in areas where physical cables for high-speed broadband Internet access still don't exist, which includes many rural and remote areas. Carriers report that 5G networks could be available in select areas as early as the end of this year, such as
this program launching in Houston, Texas
. Efforts are mostly geared toward the consumer market with 5G capabilities not expected to hit the commercial market until 2020.
3 Key Takeaways
1. Be Flexible: Stay Open to New Options for Mobility
When entering a new market, it may be easy to dismiss mobility options if your fleet isn't used to using them. For example, today's culture of preferring on-demand services has pushed for more car sharing models. Here's a
heat map from Frost & Sullivan
showing numbers of car sharing members across the world and how much car sharing revenue is expected to grow by 2025. The car sharing fleet alone is expected to grow from 240,000 vehicles in 2017 to 530,000 by 2025.
This trend is not isolated to consumers. In the same report, Europe and North America corporate car-pooling made up for 6 million of the 22 million car-sharing members and is expected to grow up to 20 million corporate members by 2025. While mobility management is still in its infancy, Frost & Sullivan recommends that global fleets begin to include at least some mobility options for allemployees, such as teleworking, car sharing, car pooling or other multi-modal solutions.
Another area with varied growth depending on the region is alternative powertrains, such as electric vehicles. In Europe, for example, diesel sales are trending downward with fleets choosing more gasoline- or alternative-powertrain vehicles.
The even more future-thinking fleets should consider the various autonomous vehicle efforts happening in the countries they operate. For example, in France the president has appointed a senior official to head up a national strategy for autonomous vehicles that they hope hits roadways starting in 2020, such as
this sleek robotaxi
. Or how about
this cargo delivery company
eyeing the use of drones in Kenya to get personal mail and even vaccines or other much-needed medical supplies to remote areas? The future looks bright.
2. Wear a Researcher's Hat: Follow Regulatory Changes Closely
Running a global fleet means staying up to date on existing and upcoming laws. There are a lot of tools, just a like a research or journalist would use, that can make staying up to date on issues a little easier. For example:
Google Alerts allows you to set up news and web results based on search terms.
Many government websites have options where you can follow a bill or issue and receive email alerts.
Follow local news sites and industry publications so that you are aware of rules, changes and compliance best practices.
There are industry conferences geared toward global fleet management issues, such as Global Fleet Conference and Geotab's annual Geotab CONNECT.
Here's a snapshot of the some of the major regulatory changes happening around the globe just to give an idea of how much a global fleet has to keep a pulse on:
Hours of Service regulations and logging are expected to begin in Mexico for the first time in August.
More robust emissions laws in Europe outpace other regions, such as the latest European Union proposal to require trucks to
lower emissions by 30 percent by 2030
. Meanwhile, in the U.S. the Trump Administration is seeking to freeze the corporate average fuel economy (CAFE) program, as well as void any state emissions laws that are stricter than federal standards, such as in California. Comments on the proposal, called the
Safer Affordable Fuel-Efficient (SAFE) Vehicles Rule
, can be made until Oct. 2, 2018.
Latin American countries such as Brazil and Ecuador are putting financial incentives and other projects in place to encourage more growth for electric vehicles.
3. Plan for the Inevitable: Take a Hard Look at Data Privacy and Security
When it comes to data privacy, fleets must walk the fine line between collecting data and protecting the privacy of drivers. On top of it, privacy laws vary across countries. While some uniformities are taking place, it's still a difficult landscape to manage. A best practice would be to look at the most stringent requirements and use those across all areas, even if it is a country that doesn't have any privacy laws. And that's because privacy laws are only going to become more common.
For example, in May 2018, the European Union enacted the General Data Protection Regulation (GDPR), which aims at protecting personal data for all EU citizens, making the privacy laws consistent across all member countries. (Note that England is exiting the EU and therefore the law won't apply).
Read a detailed description here on what GDPR means for fleets.
Cybersecurity is also a growing concern — and fleets are in no way exempt. Industry awareness is growing, such as the American Trucking Association launching its
Fleet CyWatch program
for members to report and track industry-related cyber threats.
Conclusion: Work Together
Taken together, a collaborative approach across your operating regions will help pave the way for global fleet management success:
Share projects and documentation.
Share issues and how you solved them.
Ask for input on decisions and best practices.
To make collaboration simplified, open platform telematics also offers tools to support global fleets, such as a Driver ID hardware add-on, which allows fleets to track data by driver instead of by vehicle, or by using a safety scorecard report that can help with measuring performance and enforcing compliance with company policies across each region. Plus, with an open and secure platform, the Geotab Marketplace allows for add-ons and third-party applications to work in conjunction with Geotab.