Republican Senators Kelly Loeffler and David Perdue of Georgia celebrated President
Donald Trump
's plans to rally in the state at the weekend as another presidential election recount got underway and Senate runoff elections approached.
The commander-in-chief revealed his plans to stage an event in
Georgia during a White House press conference on Thanksgiving
, telling reporters that his team was looking for a large venue in the state.
"I'm going on Saturday night, I'll be in Georgia, we're going to have a tremendous crowd," Trump said. "They're looking for the right site. We'd love to take one of the big stadiums, but you can't because of the COVID."
He then said that his team would be looking at outdoor venues such as airport hangars, which were the sites of several Trump rallies at the height of the presidential campaign and COVID-19 pandemic.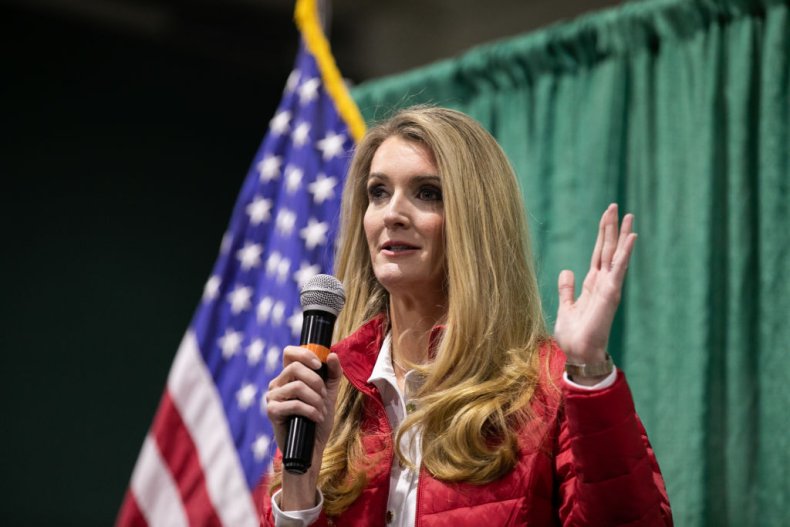 Sen. Kelly Loeffler speaks to the crowd of supporters during a "Defend the Majority" rally at the Georgia National Fairgrounds and Agriculture Center on November 19, 2020 in Perry, Georgia.
Reacting to the announcement, Sen. Loeffler tweeted: "I'm excited to welcome Donald Trump back to Georgia next Saturday for a rally with [David Perdue] & me! We will ALWAYS have his back — and I'm so honored he has ours!"
"Looking forward to welcoming Donald Trump back to Georgia!" Perdue added, sharing a clip of the president's announcement.
Newsweek has contacted the Trump campaign for further details on the rally. This article will be updated with any response.
The president unveiled his plans to rally in the state just two days after the official election recount kicked off in Georgia on Wednesday, following a formal request from the Trump re-election team on Saturday last week.
According to the initial tally of results, Biden beat Trump by a razor thin margin of 0.25 percentage points. Georgia state laws dictate that a candidate can call for a recount on a vote the falls within a margin of less than 0.5 percentage points.
If the state flips back over to President Trump after a recount, the overall election result will not be impacted, as President-elect
Joe Biden
will still have won a majority of Electoral College votes.
While coinciding with the Georgia recount, Trump's rally could also be a timely intervention ahead of the state's Senate runoff elections slated for January 5 next year. If just one of the GOP incumbents holds onto their seat, Republicans will keep their overall majority in the upper chamber.
But should their Democratic rivals Jon Ossoff and Raphael Warnock bag victories in the crucial races, the Senate will be split 50-50, meaning Vice President-elect
Kamala Harris
will have a tiebreaker voting, giving the Democrats an effective majority in the chamber.