Pakistan is the latest nuclear power to condemn the killing of a top Iranian atomic scientist, deeming the act a destabilizing event in a region already plagued by widespread unrest.
Mohsen Fakhrizadeh, a former Revolutionary Guard officer who led the Organization of Defensive Innovation and Research was shot dead last Friday east of the Iranian capital in a yet unclaimed assassination that has fueled suspicions of Israeli involvement. While Iran has always denied possessing or seeking a nuclear bomb, several nations with such capabilities, such as Pakistan, have spoken out against the slaying.
"Pakistan condemns the assassination of Iranian scientist Mohsen Fakhrizadeh in Tehran," the Pakistani Foreign Ministry said Thursday in a statement sent to Newsweek. "We extend sincere condolences to the family members of Mr. Fakhrizadeh and to the Iranian people."
The attack comes about a decade after a series of similar slayings targeted other leading Iranian nuclear scientists and, more recently, in the wake of ongoing tensions between Iran and its top foes Israel, Saudi Arabia and the United States.
Islamabad worried such violence may only further entrench the Middle East in turmoil.
"Such acts not only run contrary to all norms of interstate relations and International Law but also threaten the peace and stability of an already fragile region," the Pakistani Foreign Ministry said. "Pakistan strongly urges all sides to exercise maximum restraint and avoid further escalation of tensions in the region."
Pakistan neighbors Iran and Pakistani officials have
previously expressed to Newsweek
the importance they place on stability along their country's border with the fellow Islamic Republic.
Pakistan, one of nine countries believed to be in the nuclear weapons club, conducted its first public nuclear test in 1998, largely in response to a test conducted just two weeks earlier by rival India. Pakistan is believed today to hold around 160 nuclear weapons and India 150, according to the Federation of American Scientists.
While India—which has developed increasingly close ties to Israel and its top ally, the United States—has remained quiet, other world powers with nuclear stockpiles have spoken out.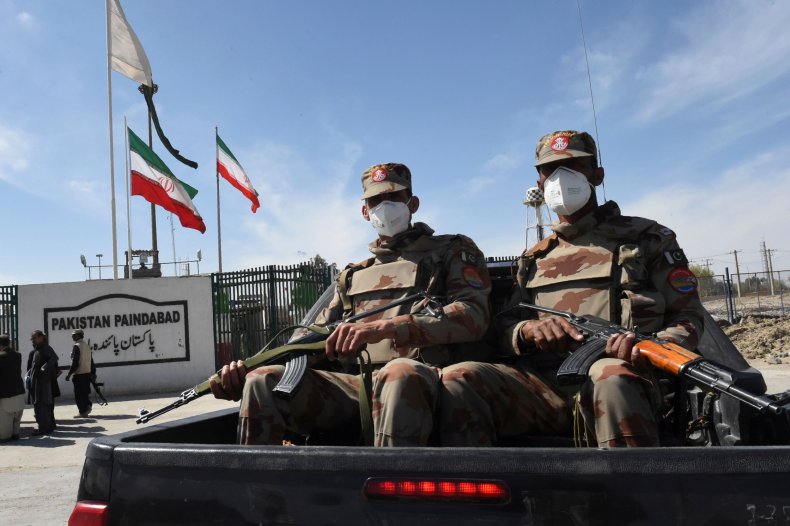 Pakistani soldiers wearing facemasks patrol near the closed Pakistan-Iran border in Taftan on February 25. In addition to challenges posed by insurgents and drug traffickers in the region, the COVID-19 pandemic tightened security at crucial border crossings in the region.
BANARAS KHAN/AFP/GETTY IMAGES
Days after Fakhrizadeh's death, Chinese Foreign Ministry spokesperson Hua Chunying told reporters on Monday her country was appalled by the act and called on those responsible to be exposed.
"China is shocked by the killing of the Iranian scientist and condemns this violent crime," Hua said. "We hope that the incident will be thoroughly investigated."
Like Islamabad, Beijing worried about the potential ramifications in an already restive region.
"China opposes any act that aggravates regional tensions and undermines regional peace and stability," Hua said. "As the current situation in the region is highly complex and sensitive, all parties should work together to ease regional tensions and maintain regional peace and stability."
China is believed to possess up to about 320 nuclear weapons, having tested its first atomic weapon in 1961, just years after an ideological split with the Soviet Union led to tensions between the two communist powers.
Today, however, Beijing and Moscow are
perhaps more aligned than ever
. Both see the U.S. as a destabilizing force in the Middle East and support Iran economically despite Washington's tight sanctions and,
after the recent expiration of a U.N. arms embargo
, perhaps soon militarily as well.
The deal was signed by Iran along with the U.S., China, Russia, France and the United Kingdom, all permanent members of the United Nations Security Council and nuclear states of the Treaty on the Non-Proliferation of Nuclear Weapons (NPT), as well as Germany.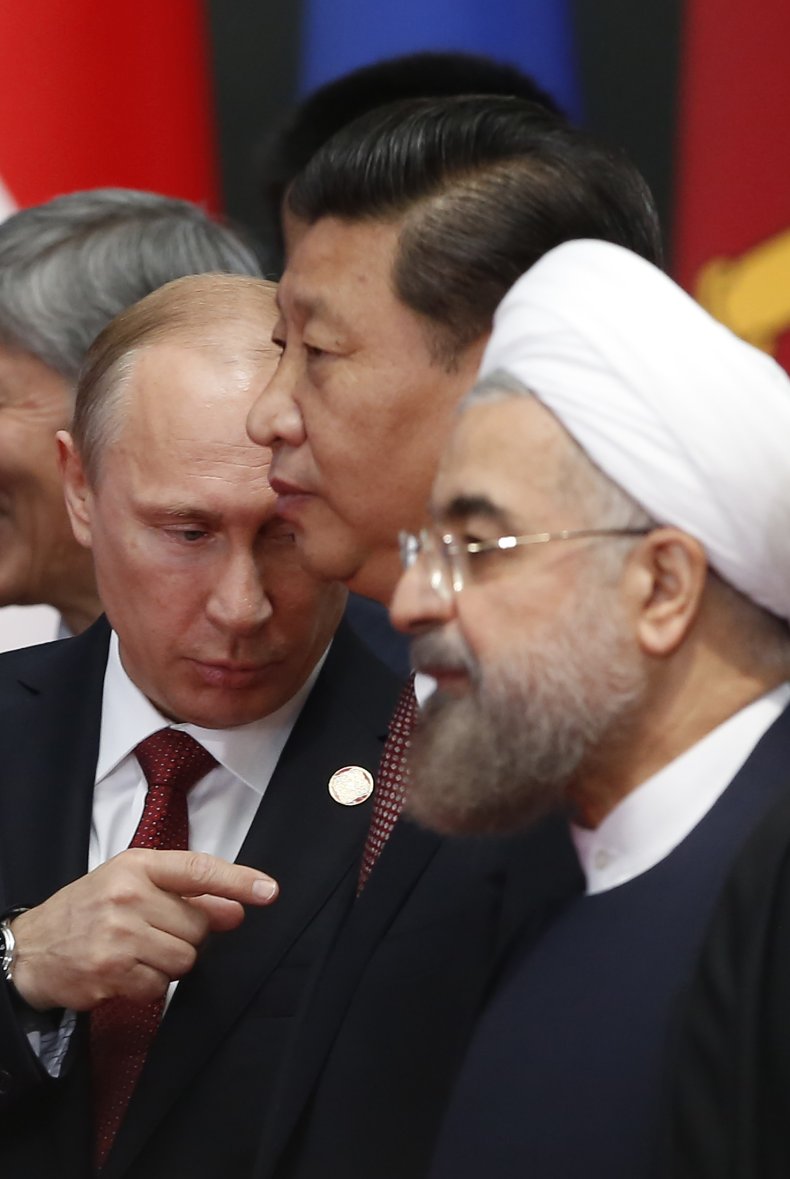 Russian President Vladimir Putin (L), Chinese President Xi Jinping (C) and Iran's President Hassan Rouhani attend the Expo Center before the opening ceremony at the Expo Center at the fourth Conference on Interaction and Confidence Building Measures in Asia (CICA) summit in Shanghai on May 21, 2014. Tehran opened up to the West the following year with the nuclear deal but now turns East to Moscow and Beijing for support under crushing U.S. sanctions.
ALY SONG/AFP/GETTY IMAGES
Despite the U.S. unilateral exit in 2018, the rest of the parties continue to back the accord, even if Europe has struggled to maintain trade ties in the face of
tough Trump administration sanctions
and Iran has begun enriching uranium at higher levels in response.
After openly claiming the killing of Revolutionary Guard Quds Force Major General Qassem Soleimani earlier this year, the U.S. has stayed silent on Fakhrizadeh's demise and the State Department declined Newsweek's request for comment on the matter.
Already breaking with the U.S. in backing the Iran nuclear deal, the European Union quickly denounced the killing of Fakhrizadeh, which the EU deemed illegal.
"This is a criminal act and runs counter to the principle of respect for human rights the EU stands for," the EU's External Action Service said in a statement Saturday, just a day after the act.
The statement expressed condolences on behalf of EU Foreign Affairs High Representative Josep Borrell, who also wished a recovery to those injured in an attack that exacerbated existing frictions across the Middle East.
"In these uncertain times, it is more important than ever for all parties to remain calm and exercise maximum restraint in order to avoid escalation which cannot be in anyone's interest," the statement said.
The three European signatories to the nuclear deal also separately expressed concern.
The French Foreign Ministry said Monday it has "taken note with concern" of Fakhrizadeh's killing. "In a context of regional tensions, we are closely monitoring its repercussions in Iran and the region," the ministry said.
Paris advised calm on all sides.
"We are calling for restraint in order to keep the channels of dialogue and negotiation open," the French Foreign Ministry said. "In this context, we reiterate our calls for efforts to avoid an escalation of tensions."
Germany also urged cooler heads to prevail as the temperature rose on heated Middle East frictions.
"We call on all parties to avoid taking any action which could lead to a new escalation of the situation" which "we absolutely do not need at this moment," a German Foreign Ministry spokesperson said in a statement that appeared in Agence France-Presse.
The spokesperson noted that the situation was especially complicated by an imminent change of power in Washington, where Biden has vowed to return to the nuclear deal when he takes office next month.
"Weeks before a new government takes office in the United States, existing dialogue with Iran must be maintained in order to resolve through negotiation the conflict over Iran's nuclear program," the spokesperson said.
U.K. Foreign Minister Dominic Raab, for his part, offered a similar sentiment pending a clearer understanding of the situation.
"We are concerned about the situation in Iran and the wider region. We do want to see a deescalation of tensions," Raab told Sky News on Sunday.
Based on what he's observed so far, however, he saw a potential criminal element in the killing of a scientist, even if he did have a military background.
"We're still waiting to see the full facts of what's happened in Iran, but I would say that we stick to the rule of international humanitarian law, which is very clear against targeting civilians," Raab said.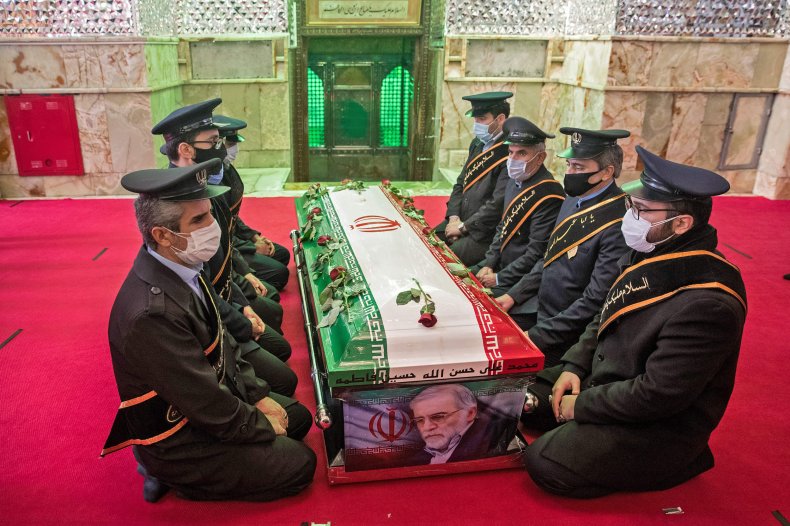 Members of Iranian forces pray around the coffin of slain nuclear scientist Mohsen Fakhrizadeh during the burial ceremony at Imamzadeh Saleh shrine in northern Tehran, on November 30. Iran said Israel and an exiled opposition group used new and "complex" methods to assassinate its leading nuclear scientist, as it buried him in a funeral befitting a top "martyr" featuring his face alongside those of Revolutionary Guard Quds Force commander Major General Qassem Soleimani and Iraqi Popular Mobilization Force deputy chief Abu Mahdi al-Muhandis, both of whom were killed in a U.S. strike in January.
HAMED MALEKPOUR/TASNIM NEWS/AFP/GETTY IMAGES
Two thirds of the E3 possess nuclear weapons, with the French arsenal estimated at 290 and the U.K.'s at around 230. As members of the NATO military alliance, they, along with Germany, also operate a collective defense pact led largely by the United States.
An eighth nuclear power, believed to be the most recent, has yet to comment on the matter. North Korea has traditionally been selective in its remarks on foreign affairs, though in the case of Fakhrizadeh, the matter could be somewhat personal.
Fakhrizadeh himself reportedly traveled to North Korea to attend the third nuclear test of the elusive militarized state in 2013. The extent to which Pyongyang and Tehran's
weapons programs are linked
remains a point of debate among experts and officials but both governments and their supreme leaders are linked in their skepticism and, at times, outright opposition toward the West and its global interventions.
The ninth country believed to possess nuclear weapons has never openly admitted to having them but deeply opposes efforts by other regional states to acquire them.
Israel considers its qualitative military edge over other powers into the Middle East to be an existential asset due to the ongoing hostility emanating from its original 1948 establishment and war with Arab states that backed
Palestinians claiming the same territory
. Today, five Arab states have normalized relations with Israel, three—the United Arab Emirates, Bahrain and Sudan—since August, and Iran remains the top priority.
The Israel Defense Forces
recently told Newsweek
its personnel "remain vigilant as ever, prepared for various Iranian attacks and they stand ready to defend Israeli civilians." The Israeli military declined to comment further on the subject of Fakhrizadeh's killing.
Alireza Miryousefi, spokesperson for the Iranian mission to the United Nations,
told Newsweek
his country too "is perfectly capable of defending its people and its territory," remaining vigilant as ever against potential threats.
As for revenge, he warned Iran would act at its own pace and place.
"Retaliation for Dr. Fakhrizadeh's assassination will come in due course against the perpetrators of the terrorist action," Miryousefi said, "and at a time and place of our choosing,"