Some members of the GOP are distancing themselves from President
Donald Trump
's refusal to concede the 2020 election to President-elect
Joe Biden
despite Trump's continued allegations that the election was conducted fraudulently.
Trump's allegations of election fraud run the gamut from improper access to poll-counting areas by Republican observers to computer fraud perpetrated by the voting machine manufacturing firm, Dominion. Many critics have deigned Trump's claims as unsubstantiated. Lawsuits filed by Trump's legal team to overturn state election results have been mostly dismissed by judges.
While some Republicans have remained quiet about Trump's position and claims of election victory, others have made statements that indicate a willingness to accept a Biden win.
"Some people in this administration, but fortunately not all, have been beaten down and disparaged," Trump said in a Wednesday speech posted to social media. "They just disappeared. Nobody knows what happened to them."
Trump may have been referring to a statement made by U.S. Attorney General
William Barr
. In an interview with The Associated Press, Barr said that although the Department of Justice had investigated some claims of election fraud, the DOJ had not seen "fraud on a scale that could have effected a different outcome in the election."
Senate Majority Leader
Mitch McConnell
, one of Trump's most steadfast allies, alluded to Biden's projected win during a Tuesday press conference. While discussing the progress of a new coronavirus economic stimulus package, McConnell told reporters that there would be discussions of "some additional package of some size next year depending upon what the new administration wants to pursue."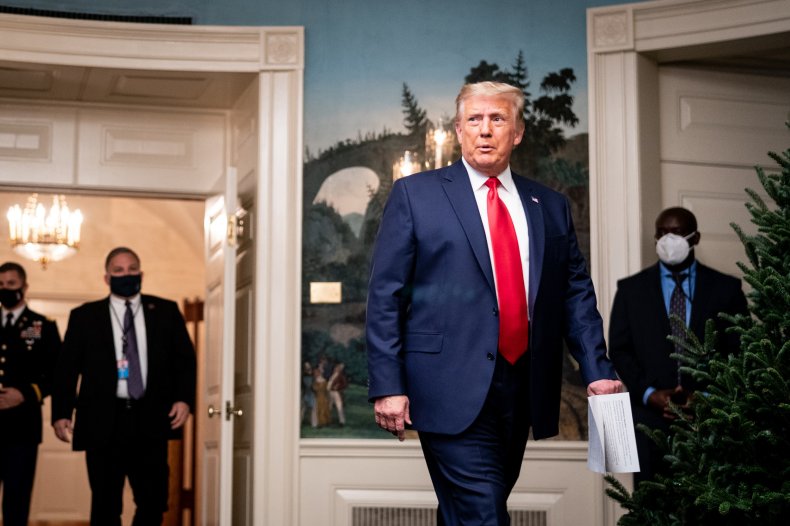 President Donald Trump's refusal to concede victory in the 2020 presidential election may be pushing some GOP members to accept the projected win of Democratic President-elect Joe Biden. ERIN SCHAFF-POOL/GETTY
In a November tweet, Louisiana Senator Bill Cassidy wrote that "President Trump's legal team has not presented evidence of the massive fraud which would have had to be present to overturn the election. I voted for President Trump but Joe Biden won."
After ballots were counted for the second time in Georgia, Secretary of State Brad Raffensperger declared Biden to be the winner of the state's elections on Wednesday. Raffensperger, a Republican, said in November that he voted for Trump.
"As many of us have said," Raffensperger told reporters, "we wish that our guy would have won the election. But it doesn't look like our guy has won the election."
Newsweek reached out to the Biden transition team for comment.
Despite the reluctance of some GOP lawmakers to acknowledge Biden's win, many leaders on the world stage have reached out to congratulate the President-elect, including Chinese President
Xi Jinping
.
Russian President
Vladimir Putin
, with whom Trump has enjoyed a cordial relationship, has declined to congratulate Putin until Trump's legal challenges to the election are complete.
"Obviously, you can see that certain legal procedures are coming there, which were announced by the incumbent president," said Putin spokesman Dmitry Peskov in November. "Therefore, this situation is different, so we consider it correct to wait for the official announcement."