The holiday season may be over for some folks on New Year's Day, but some Christians have another holiday to look forward to after
Christmas
.
Every year on the twelfth day of Christmas, January 6, the Ephipany (also known as Three Kings Day) is celebrated as a Christian feast day. For many Christians, the holiday season does not end until the Epiphany, which marks the biblical worship of baby Jesus from the three kings (who are also known as Wise Men or Magi). According to the Gospel of St. Matthew, the three kings followed a star to reach Jesus at the manger where he was born in Bethlehem.
"After Jesus was born in Bethlehem in Judea, during the time of King Herod, Magi from the east came to Jerusalem and asked, 'Where is the one who has been born king of the Jews? We saw his star when it rose and have come to worship him,'" the Gospel of St. Matthew says.
"After they had heard the king, they went on their way, and the star they had seen when it rose went ahead of them until it stopped over the place where the child was. When they saw the star, they were overjoyed. On coming to the house, they saw the child with his mother Mary, and they bowed down and worshiped him. Then they opened their treasures and presented him with gifts of gold, frankincense and myrrh."
The kings offered the infant gold, frankincense and myrrh. Huffington Post notes that gold is attributed to royalty, as Jesus is "king of the Jews." The frankincense represents Jesus's holy presence as God's son. Finally, myrrh, which is typically used as a preservative, symbolizes that Jesus was mortal and would die for our sins in the future.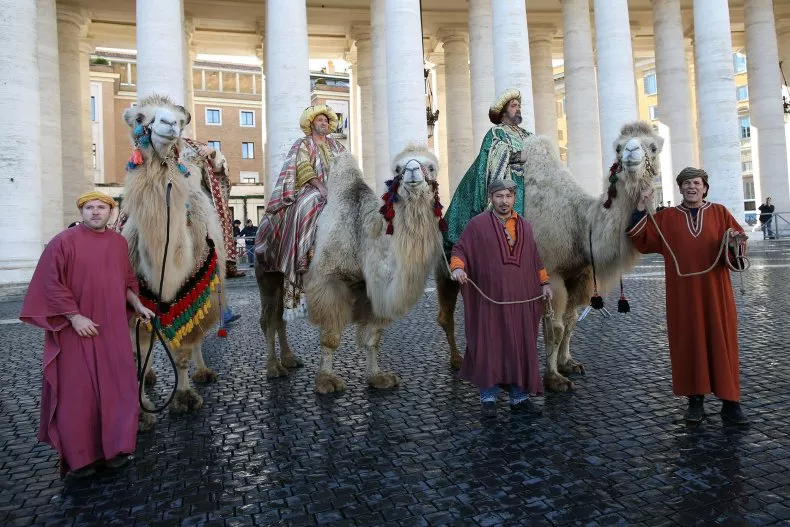 Faithful dressed as the three Magi (the Three Wise Men) gather in St. Peter's Square during the Feast of the Epiphany attend the Pope Francis' Angelus blessing on January 6, 2016 in Vatican City. FRANCO ORIGLIA/GETTY IMAGES
According to ABC10, kids who celebrate the Epiphany traditionally leave their shoes outside their doors overnight on January 5 and find toys and presents in them the following morning. This is reminiscent of how Jesus received gifts from the Three Wise Men. Folks typically take down their Christmas tree and
decorations
on the Epiphany or the day before, which marks the end of the 12 Days of Christmas. If you leave it up after the Epiphany, it's thought to bring bad luck.
In non-pandemic times, Three Kings Day is
typically celebrated
with parades and other events around the world. In Spain, the feast day is marked with joyous parades. In Belgium, kids dress up as the three Wise Men, and go door-to-door singing. Rosca de Reyes, or Kings Cakes, are baked in Mexico to celebrate the Epiphany. These cakes have a tiny clay or porcelain statue of baby Jesus hidden in the cake.